Before venturing out to sea, you want to make sure your vessel is sea-worthy. It's important to be aware of the boat construction process so that you can make an informed decision before buying a boat. At Sea-Lion, our Florida-based shop uses three-piece boat construction to deliver the best center console boats for offshore fishing and recreation.
We will walk you through the different processes for boat construction, educate you on our process, and explain the benefits of three-piece boat construction.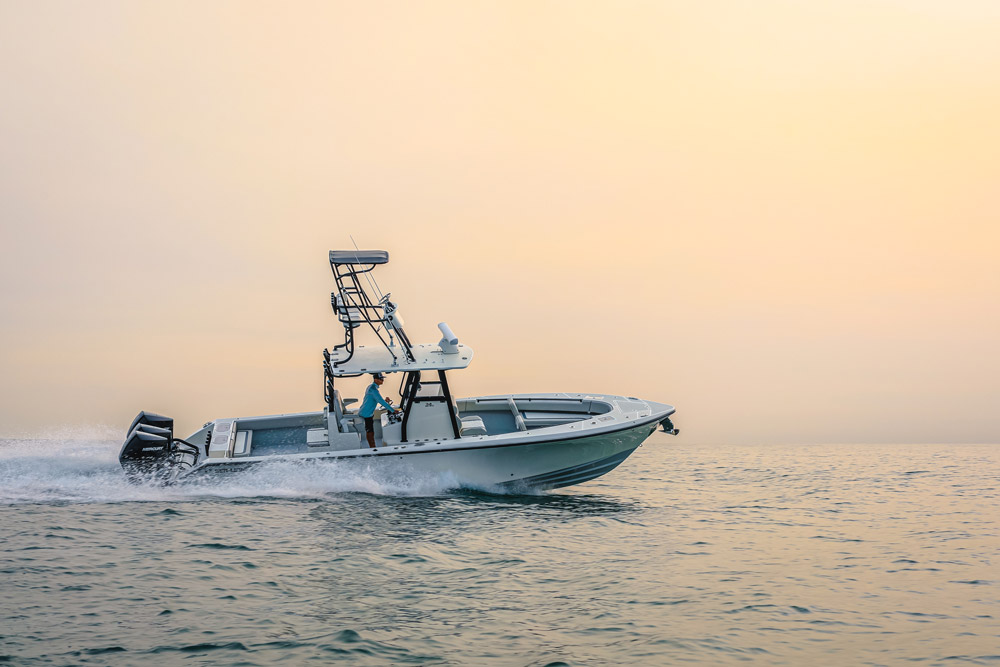 What is Three-Piece Boat Construction?
Three-piece boat construction involves creating a cap, floor and hull to build the base of a center console boat. The boat deck is attached to the liner by using fiberglass, which forms a stronger bond between the two parts. Three-piece construction results in less shifting and a much smoother ride.
The three-piece method is comprised of:
Hull — the base and main body of the boat.
Liner — the main inside piece of the boat upon which the interior is built.
Cap — the top piece that bonds the Hull and Liner together.
See the Sea-Lion detailed construction process.
The Sea-Lion construction process:
Step 1: Selection of Options
Each Sea-Lion is uniquely crafted to the needs of the user. We offer a comprehensive list of options and also work to accommodate custom requests. From additional rod holders, to custom colors, your Sea-Lion should fit your lifestyle.
Step 2: Mold Preparation
Next, we begin the build with the mold. We maintain and prep each of our molds prior to hull construction. This ensures that no defects or weak spots form in the fiberglass.
Step 3: Gel Coat
After that, our team then applies a gel coat protective barrier which both adds to the look of the boat and protects it. We offer a wide variety of colors to suit any taste.
Step 4: Hull Fiberglass
The fiberglass hull is the integrity of the boat. We mold the pieces using only the highest quality composite materials, all fiberglass is hand-laid, no wood is used in the construction.
Step 5: Remove Parts from Molds
After the hull, liner, deck, and helm have fully cured, we thoroughly check them. Next we remove them from their molds to ensure they retain their quality. Other molds like storage boxes, fish boxes, and more are then added.
Step 6: Liner Installation
Once the hull has been formed, set, and sealed, the liner is installed. This is the second main piece in the 3-piece process.
Step 7: Cap Installation
Next, the hull and liner are seated together with the cap — the third, and final, piece in the 3-piece construction process.
Step 8: Interior Assembly
The interior of the boat is assembled according to your custom instructions. Any options like additional seating and added storage help distinguish each Sea-Lion boat.
Step 9: Motor Mounting
Once the interior is done, it's time to mount your choice of outboard motors. We can mount single or double configurations on the 27' and triple configurations on a 34' to get that extra horsepower.
Step 10: Delivery
After the boat is cleaned, shined, and polished, the custom Sea-Lion is delivered.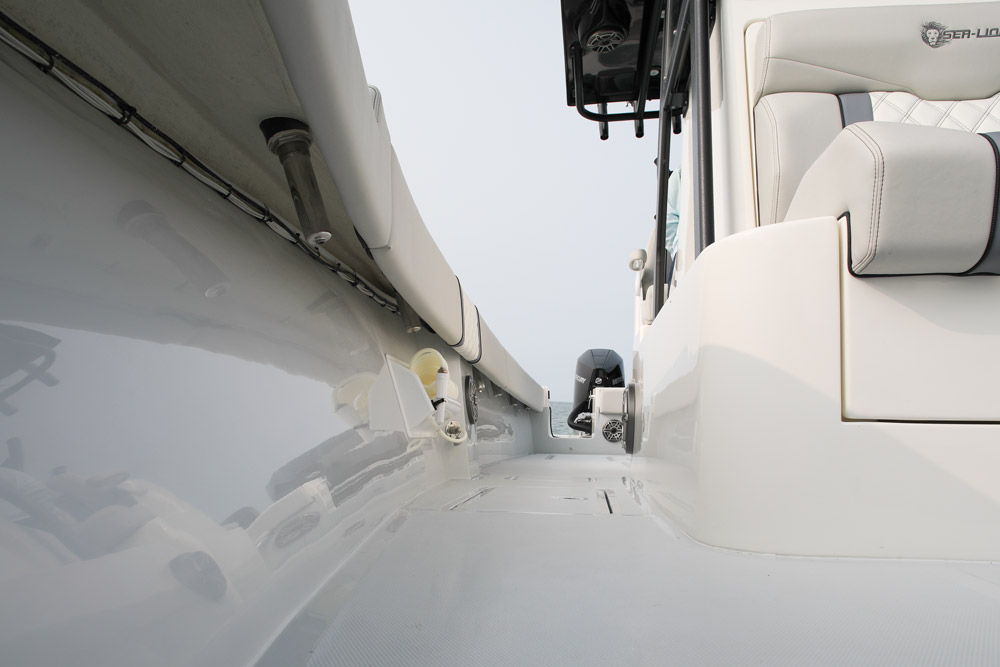 What is Two-Piece Boat Construction?
Two-piece boat construction, on the other hand, involves only a liner and a hull which are secured with screws and adhesive.
This construction style doesn't have many benefits outside of reduced cost. Two-piece boat construction typically doesn't allow for a toe kick area, or extra deck space, resulting in less functional space and reduced comfort when compared to a three-piece constructed center console boat.
Why we use Three-Piece Boat Construction
At Sea-Lion, we use three-piece construction because it results in a better product. The advantages of three-piece boat construction involve stability for fishing, increased deck space, room for rod holders, more lighting and outlets, and a smoother ride.
Stability for fishing
3-piece hull center console boats have space for a toe kick area. This allows fishermen to place their feet under the gunnel, providing them stability while fighting a fish. Two-piece boats do not offer this benefit.
We craft our boats with fishability in mind and know that this toe kick feature is important to any fishermen, competitive or casual.
Increased Deck Space
In 3-piece boats, the liner aligns directly with the hull which creates more deck space. A 2-piece boat will have less space and be fairly cramped.
Sea-Lion Boats are designed with comfort and functionality in mind. Our intelligent use of space and covered helm allow for plenty of seating as well as plenty of storage.
Accessories
There are many accessories that make fishing boats easier to use. For example, three-piece boats have room for more rod holders, coolers, storage, lighting and outlets.
We customize your boat to your needs. The extra space available in a 3-piece constructed boat allows us to offer plenty of options, from storage, to high-end electronics, to rod holders, and more.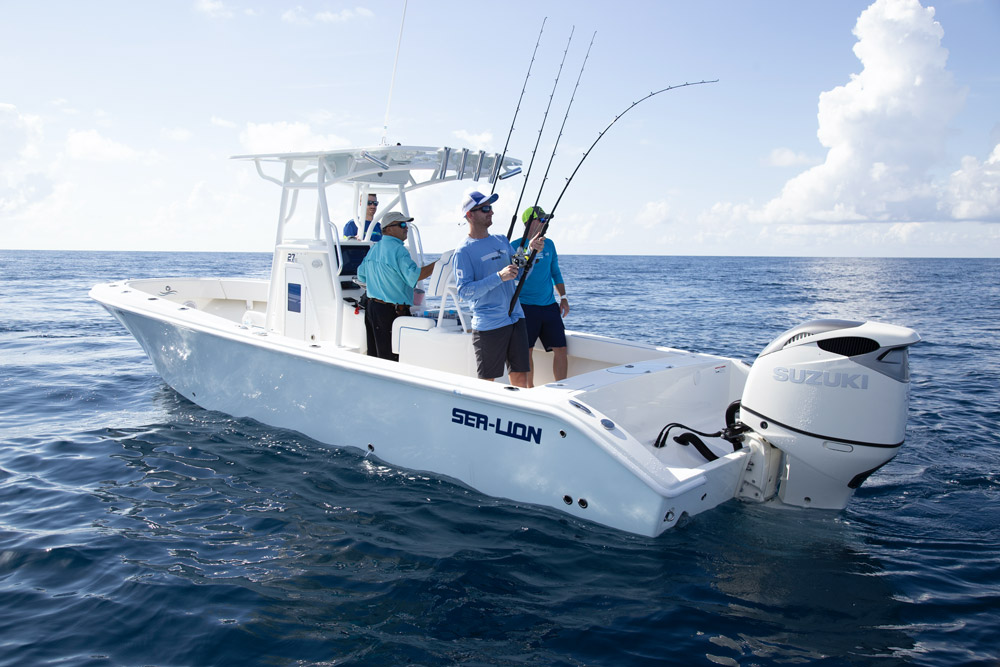 The Sea-Lion Difference
All Sea-Lion boats are meticulously hand-crafted to ensure every part is perfectly finished. Our holistic construction process is unlike any other manufacturer today. At every step of the process, the user is considered. Our iconic hulls are designed for every condition, from calm waters to rough seas.
"Every Sea-Lion is the culmination of meticulous planning, preparation, and construction to create a gorgeous masterpiece."
Our team will work closely with you as you customize your new Sea-Lion boat to fit your needs. From additional seating to more storage, to high-end accessories, we can create your dream boat for fishing and family adventures.
Our three-piece construction process allows us to create the ideal layout, with a spacious deck and amenities. Our boats are engineered with an open deck and seamlessly integrated storage to offer the highest quality fishing experience available.
Sea-Lion three-piece constructed center console boats are custom built in Florida. We are proud to offer the best offshore fishing and recreation boats, customized to your lifestyle.